Florence circa 1900: The Photographic View
Greeting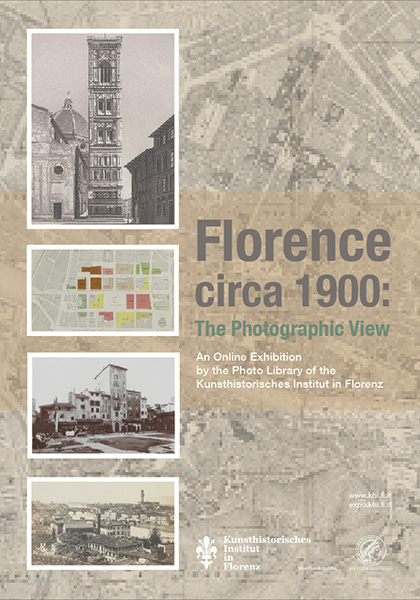 The medium of photography, like few others, performed an essential role in creating the "Florence myth" in the 19th century. Shifting between experiment, art and souvenir, photography met various requirements and performed several functions.

The photographic reproduction of famous buildings and works of art was not limited to acting as a souvenir for travellers or being of service to art aficionados, who bought photographs as the raw material upon which to base their studies. Florence's flourishing antiques business also benefited from the photographic representation of artistic subjects.

For this reason photography was always in step with the dissemination of Florentine works of art, enlarged reproductions of which adorned the homes of bourgeois scholars. Even the urban transformation measures concomitant to or that occurred after Florence became the capital of the newly formed nation were accompanied by photographic campaigns. In this case too photography demonstrated its memory value in relation to society and its history.

Many of the photos and graphic works displayed in this online exhibition could be admired as part of the exhibition "Florenz!" at the Bundeskunsthalle in Bonn, organized in collaboration with the Kunsthistorisches Institut in Florenz.
Ute Dercks